The Color Red was introduced in Peppermint Park Volume 1: Magic Moments. The song features a black female marionette singing about the color red.
Lyrics
I got the blues and I don't know what to do.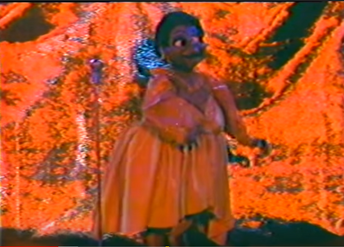 I got the blues about red. It's such a pretty color.
I don't know how to tell ya.
The sky is blue, the grass is green.
But red is the best I've ever seen.
Red is such a blushing brilliant. I really can't believe.
Red ink would be the color for the number negative.
And red's a rosy rachat! And I can't just understand it.
How bad it feels when someone steals and he get's caught red handed.
Oh sure it's good for fire trucks, red is ever good for bonds.
But no one let's you paint your bedroom red.
And red would be perfection for a great big ball of yarn.
You must admit you know its true that red goes best with white and blue.
Yeah red's my favorite color. Red never get's a chance that's fair.
Cause red just ain't the color of my true loved hair.
And no one's red with envy. It don't make my red eyes blue.
And nobody sings about their favorite things on the red bayou.
Well let me tell ya honey. If I haven't wrote those songs.
You could be sure I've said you know I've said, that it's not easy being red.
But red never gets a fishy. It just keep's on being used.
What a wonderful thing about us saying about a, red suede shoes.
Red's such a flaming fella. And even though it's not.
Everybody's favorite color, Haa. It will always be red hot.
I'm tired of feeling blue. Just don't know what to do.
About red!
Video