The Color Blue was introduced in Peppermint Park Volume 2: The Story Lady. The segment is about Maynard singing a song on why he is feeling blue.
Lyrics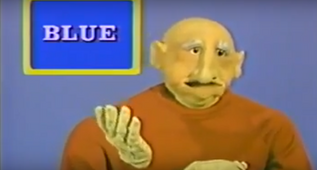 I'm so blue. I said I'm so blue.
I used to be yellow. Now I'm laid back and mellow.
When I was young, I was red hot.
Always trying to be a big shot.
Spending my money and trying to be funny.
For reasons I must've forgot. So I'm blue.
A cool shade of blue. You know I'm cool as the ocean.
Cool as the breeze. All that I eat is blue cheese.
Cause I'm blue.
Video